Welcome to our store. Come on in and browse around. Happy Stitching!!!
DO YOU HAVE SOMETHING YOU WANT TO SAY ABOUT OUR NEW WEBSITE, PATTERNS, CUSTOMER SERVICE, SELECTION.....ANYTHING...GOOD, BAD, OR INDIFFERENT?? OR DO YOU HAVE A WIP OR FINISHED PRODUCT IMAGE THAT YOU WOULD LIKE TO SHARE?

JUST EMAIL US AT SALES@SHINYSUNSCROSSSTITCHING.COM AND WE'LL LIST ALL FEEDBACK AND IMAGES (WITH YOUR PERMISSION) RIGHT HERE ON THIS PAGE. WHEN EMAILING US, PLEASE LET US KNOW YOUR FIRST NAME AND THE STATE YOU LIVE IN. IT REALLY IS JUST THAT SIMPLE!!!
---REVIEWS---
---

ABOUT 9 YEARS AGO I STARTED SEARCHING ON LINE FOR REALISTIC CHARTS AND CAME ACROSS YOUR WEBSITE. I IMMEDIATELY ORDERED ONE OF DUCKS TO DO FOR MY HUSBAND. ONCE IT WAS COMPLETED WE BOTH WERE IN AWE AT HOW REALISTIC IT TURNED OUT. FROM THAT POINT ON I'VE ONLY DONE YOUR PATTERNS, THEY ARE THE BEST ANYWHERE! WHEN PEOPLE SEE MY FINISHED PIECES THEY THINK I PAINTED THEM!! THANK YOU FOR THE HAPPY YEARS I'VE HAD AND WILL CONTINUE TO HAVE IN STITCHING. OVER THE YEARS I'VE ALSO GAINED A FRIEND. THANK YOU FOR YOUR AWESOME PATTERNS, EXCELLENT SERVICE, AND NOW, FRIENDSHIP.

YOUR LOYAL FAN,
DESIREE, KY


---

HEY THERE DAWN,
MAY I THANK YOU FOR YOUR WONDERFUL DESIGNS. I FIRST FOUND THEM IN 2009 WHEN A FRIEND OF MINE WAS STITCHING ONE. SO AFTER CHECKING OUT THE WEBSITE, I FOUND MY CART FILLING UP QUITE RAPIDLY. 8 PATTERNS LATER AND I WAS ECSTATIC. I THEN SHOWED MY MUM THE WEBSITE AND OFFERED TO PURCHASE SOME FOR MOTHERS DAY. MUM ALSO FELL IN LOVE WITH THE DESIGNS AND QUICKLY FOUND AROUND 15 DESIGNS SHE COULD SEE HERSELF STITCHING. YOU ARE MY ONE STOP SHOP FOR MOTHERS DAY, BIRTHDAY AND CHRISTMAS FOR MY MUM AS WE BOTH LOVE YOUR DESIGNS.

JUDY
THANK YOU.


---

EXCELLENT CUSTOMER SERVICE. A BIT OF SOMETHING FOR JUST ABOUT ANYONE . . . LANDSCAPES, NATIVE AMERICAN, ALL SORTS OF ANIMALS, AND (MY FAVORITE) FANTASY. THE CHARTS ARE EASY TO FOLLOW AND TURN OUT WONDERFULLY. I'VE PURCHASED MORE THAN ONCE AND WILL AGAIN IN THE FUTURE.

SARAH, VA


---
THE NEW WEBSITE IS SO EASY ON THE EYES AND EASY TO BROWSE. EVERYTHING IS SO EASY TO FIND AND THE CATEGORY LAYOUTS ARE SO GORGEOUS. KEEP UP THE GOOD WORK SHINYSUN, I LOVE STITCHING WITH YOU.!!
DEBORAH, MO


---

HOPE YOU MADE IT THROUGH THE INSANITY OF THE HOLIDAYS IN ONE PIECE (LOL).....DECIDED TO TAKE A LOOK AT YOUR SITE AS I HADN'T SEEN IT IN AWHILE. ALL I CAN SAY IS.....WWWOOWWW!!!! I ABSOLUTELY LOVE IT! ( I LIKED IT THE WAY IT WAS....BUT, THIS IS PROOF THAT YOU CAN IMPROVE ON "PERFECTION")....WILL BE MAKING SOME PURCHASES IN THE COMING MONTHS!
ROBIN
--

Shinysuns chart 'Rays of Light' by Anne Marsh, was an identical picture to my beloved cat, so I just had to purchase and stitch this one. I found the webpage easy to navigate and the payment process a breeze. I received my charts very quickly considering I live in Australia, and have made other purchases since. The detail of these charts and the results they give are outstanding. I have had many compliments for my completed work, and was happy to recommend Shinysuns Cross Stitch to fellow stitchers

Sue De Tert, Melbourne Australia
---WIPS AND FINISHED---

German Shepherd © Bryan Moon - Stitched by Ramona T:
Three and a half years later, my cross stitch dog is done and it won ribbons at both the county and state fairs. Your pattern is the best!!

Rainbow Trout © Cliff Rossberg -
Stitched by Howard D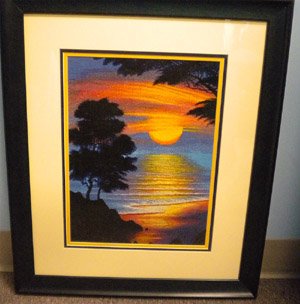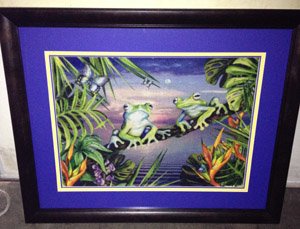 S
ong of the Sun © Rattenbury Fine Arts and Two Blue Frogs at Sunset © Lori Schory
Stitched by my BFF Desiree H, KY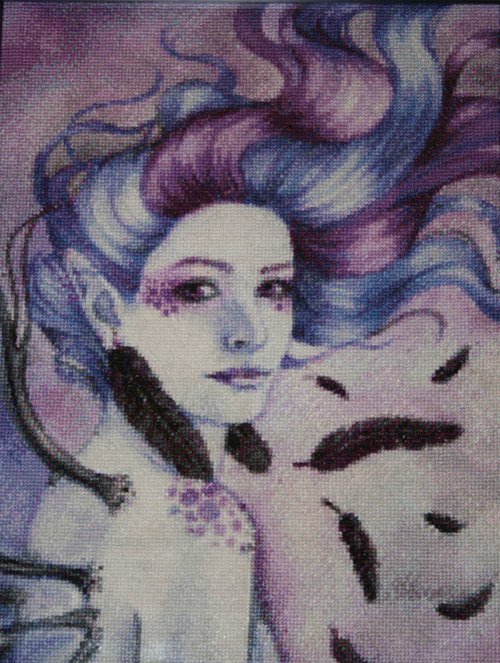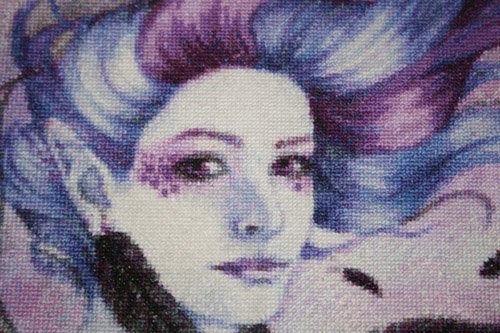 Wind Goddess © Lindsey Cormier - Stitched by my mom Linda W, OH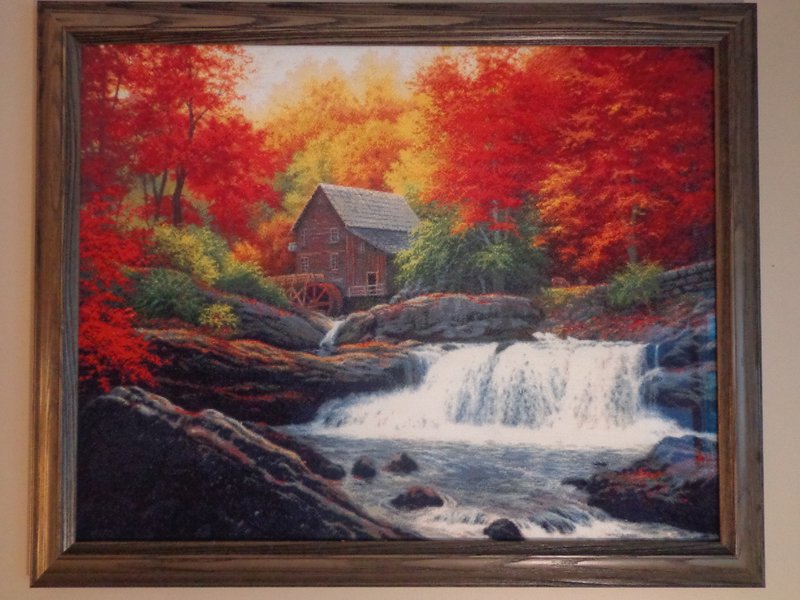 Glade Creek Grist Mill © Charles White - Stitched by Penny C
I made this for my daughter (11 yrs) and she enjoyed watching the progress and loves the finished piece.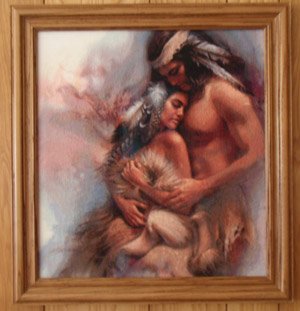 Sacred Bond © Lee Bogle - Stitched by Joanne D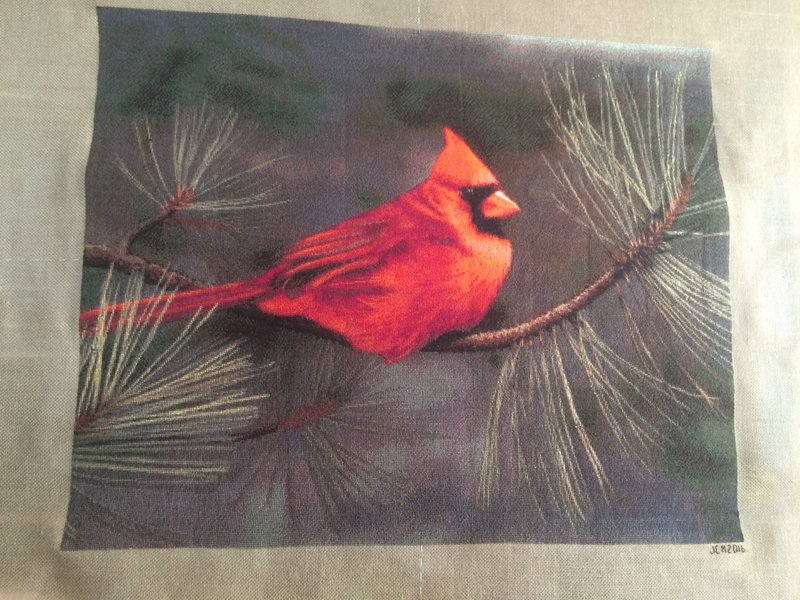 Red Pine Perch © Karen Latham - Stitched by Judy Merritt in Augusta, GA
I received the graph as a gift about 6 years ago from a friend who knew I was looking for a cardinal - but not one too cartoonish. This was perfect!!! I am just thrilled how he has turned out!!!! And I want to thank you for such a beautiful offering. I am so pleased that you want to show him off on your site. That is such a compliment!!!